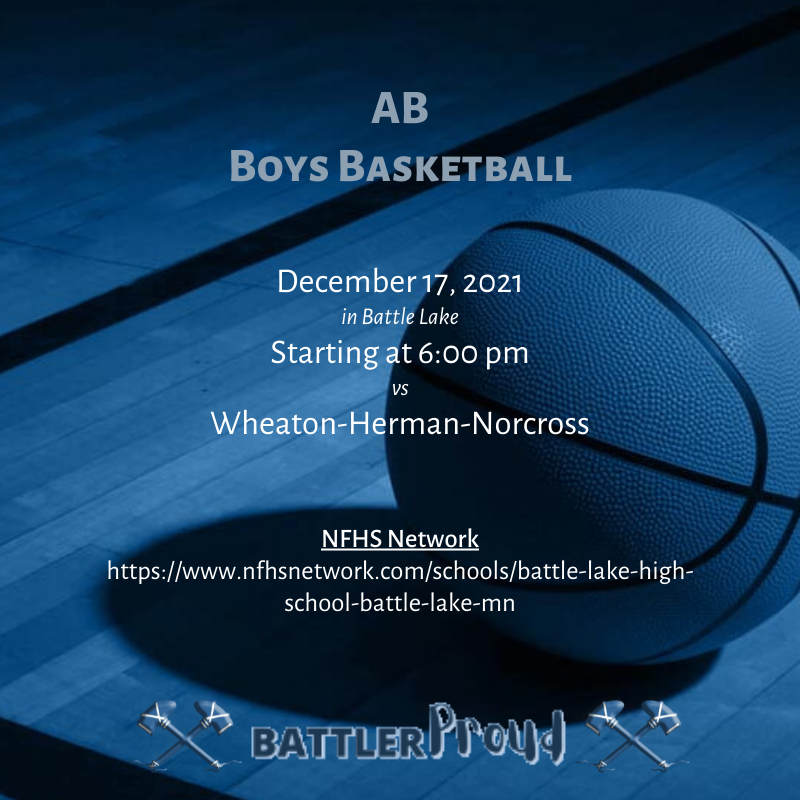 Good afternoon, The school district received information from the Minnesota Department of Education this morning, regarding a trend happening nationally on TikTok, a video-focused social media platform. The challenge is for the user to report a false threat to a school. I have included the email from MDE for you to read and encourage you to be vigilant with your child regarding anything they may see or hear on social media. Our best defense is with our students, families, and community to report anything unusual or alarming they may see or hear. As of this email, there has not been any "threat" made to Battle Lake School but I felt it necessary for you to be aware of the issue and possibly have a conversation with your child(ren) on how dangerous this "challenge" can be for them and their school. Any threats made will be reported to the local police and they will investigate. Thank you for your continued support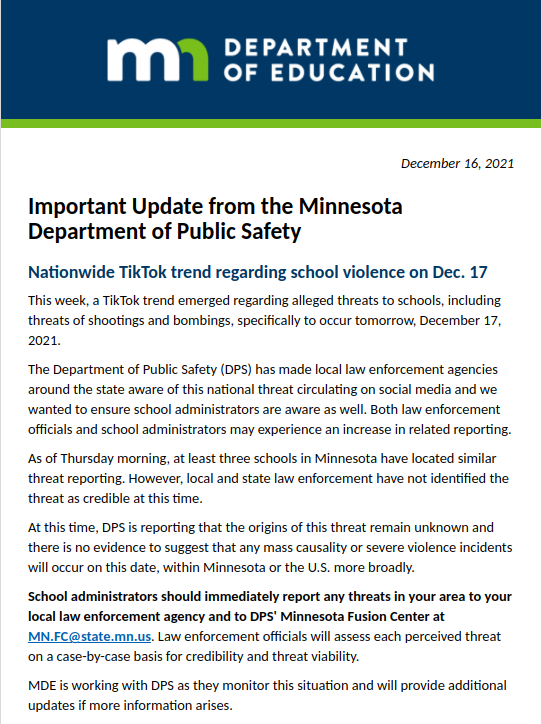 Due to the WINTER STORM WARNING Battle Lake Schools will be 2 hours late on Thursday 12/16.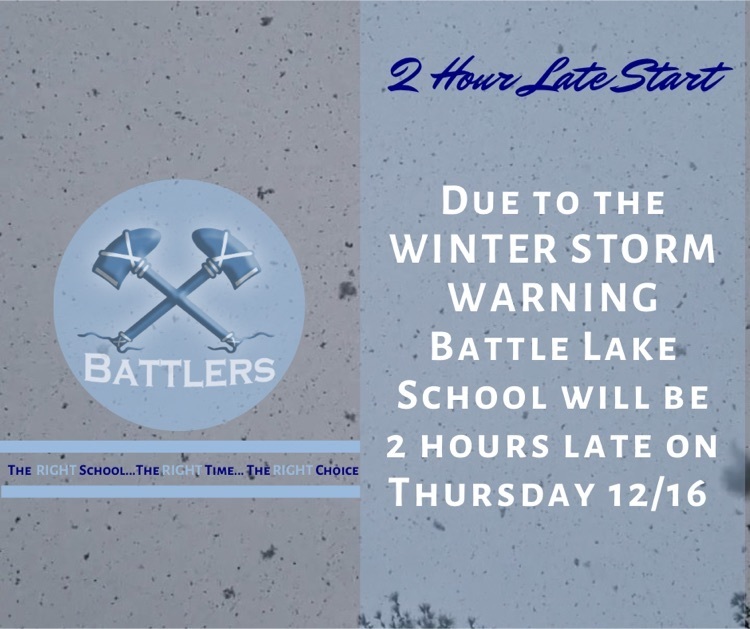 Otter Tail County Public Health is offering all 3 COVID-19 vaccine types weekly-Pfizer, Moderna and J&J for both initial series and booster doses. Their website provides up to date information and scheduling opportunities for vaccination clinics in the Otter Tail county region: OTCPH Vaccine Webpage Although they are not currently offering pediatric COVID-19 vaccines for the newly eligible 5-11 year old population, we do encourage/recommend families see their healthcare provider/local pharmacy for the vaccine. OTC public health is providing free COVID-19 tests to anyone ages 2 and up: Vault saliva COVID-19 testing, which results in 24-48 hours and Cue COVID-19 testing, which typically provides same day results At this time, testing clinics are offered every Monday afternoon in Fergus Falls at the Bigwood Event Center and the 1st and 3rd Friday afternoons in Ottertail City at the County Operations Center. Clinics, scheduling information and other testing resources in our region can be found at: OTCPH Testing Webpage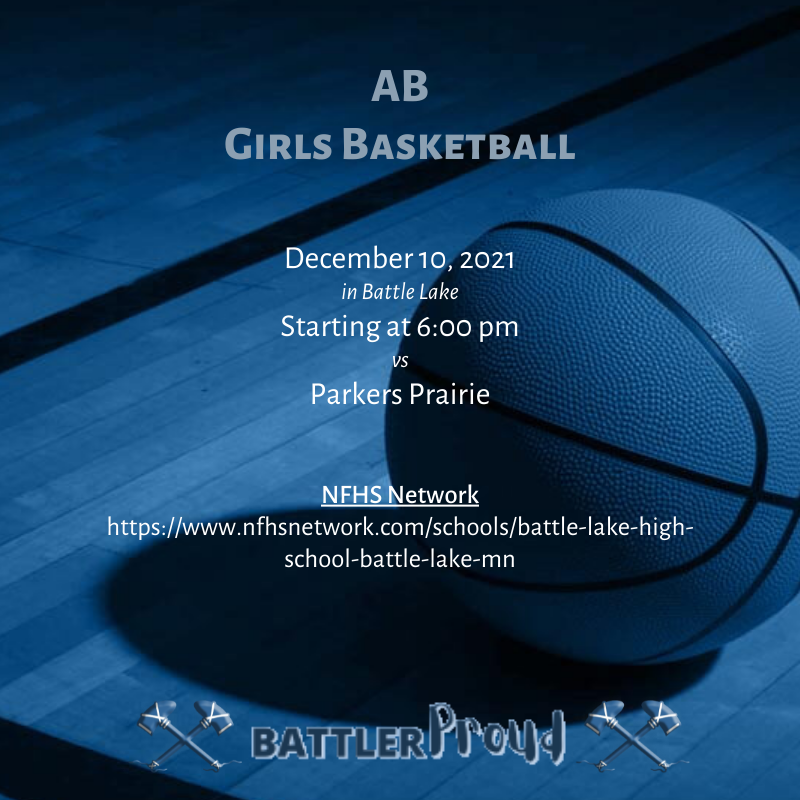 Please do not send peanut butter/tree nuts to school. Several people in our building have this severe allergy to peanuts and tree nuts, which requires strict avoidance, as the only means to prevent an allergic reaction. Accidental contact or ingestion can be fatal. We are asking that EVERYONE please be mindful of this when sending food and/or bringing food into our school (lunches, snack and treats). Some Nut-Free Snacks may include: fruits, vegetables, cheese, yogurt, applesauce, goldfish, saltine crackers, cheese crackers, graham crackers, vanilla wafers, popcorn and fruit snacks. Peanut Butter Alternatives: WOW-Butter, Sun-Butter or Biscoff Cookie Butter Thank you!

Due to the weather conditions school and buses will be running 2 hours late today. Monday,12/06
The 6th grade will be raising funds for their spring field trip to the State Capital during the Craft Fair on December 4th. They will be serving lunch in the school's cafeteria! Stop in for soup, sandwiches, and homemade goodies! See the whole menu attached.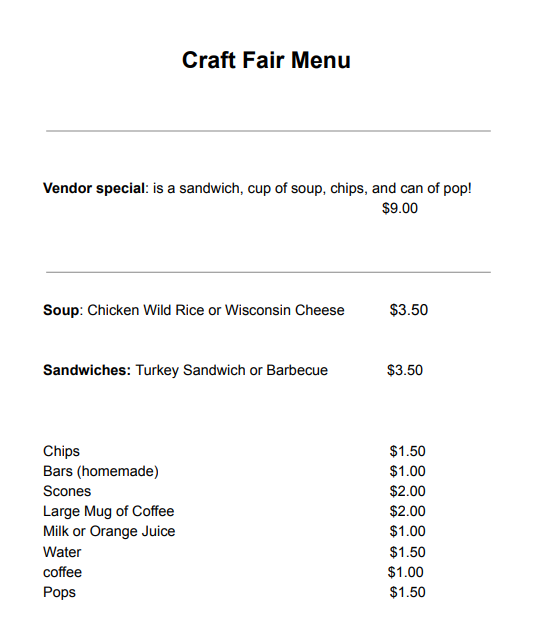 Tomorrow is the CRAFT FAIR!!! Please join us from 9am-3pm this Saturday to find the perfect gifts for those on your lists!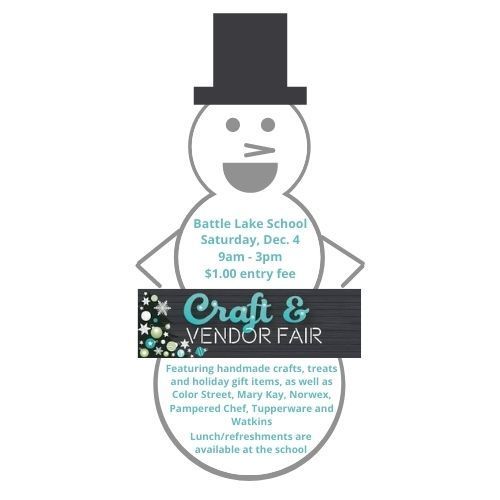 Come see the 6th graders!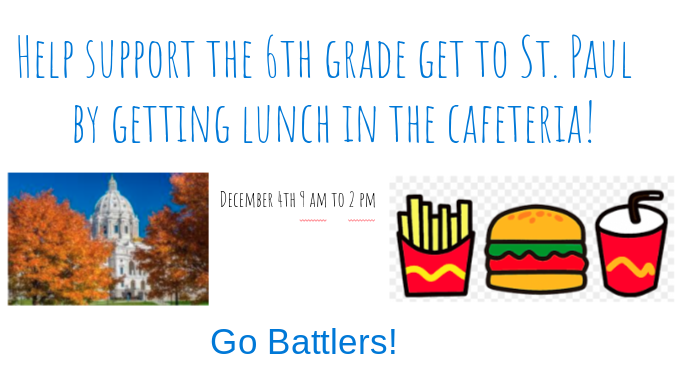 The Battle Lake Craft Fair Countdown is ON! Bring a friend and finish your holiday shopping by visiting one or all of our nearly 90 vendors!! See you on Saturday!!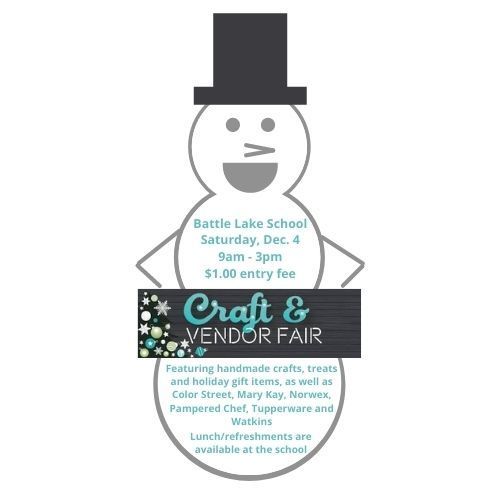 The Battle Lake Craft Fair is only 6 days away!! Please join in the shopping fun Saturday, Dec 4 from 9-3!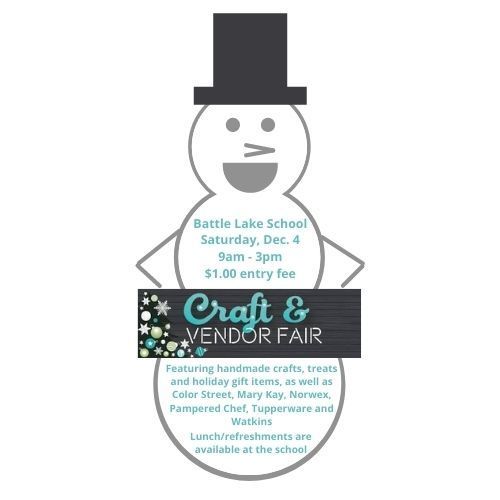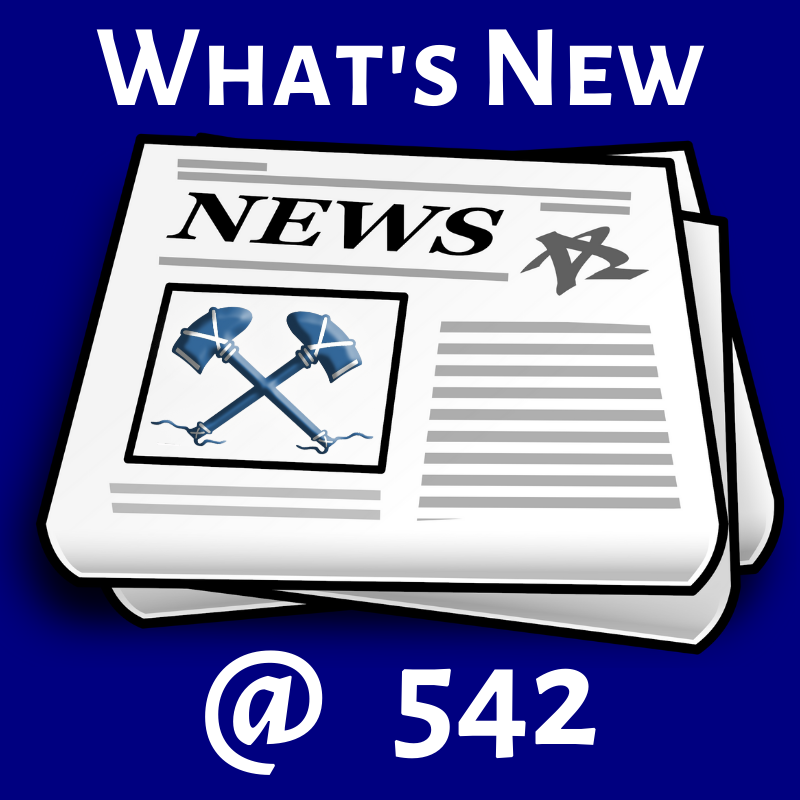 On November 11, Battle Lake School celebrated staff and students that exhibited characteristics of the "Battler Proud" way. Join us in congratulating Sue Riedel, Randy McIntire, and the Elementary and High School students that were honored. See the picture for more details!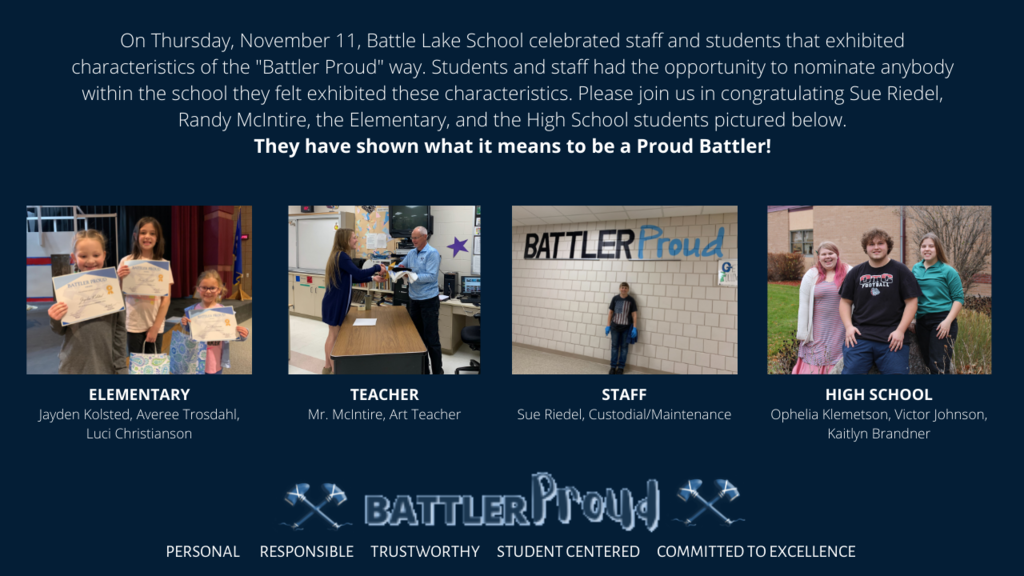 On Wednesday, November 17, we ask the students and staff of Battle Lake School to remember Mr. Himmelspach by wearing a tie or attire from one of the many fundraisers Mr. Himmelspach coordinated over the years. Please see the image for more information.

Thank you for taking time to visit our website. My name is Rob Nudell and I feel very fortunate to have been given the opportunity to serve as Interim Superintendent at Battle Lake School. I will be part-time in Battle Lake and plan to be in the District on Tuesdays and Thursdays as well as some Fridays. Being this is a shared Superintendent position, I will work at Norman County East Schools on Mondays and Wednesdays as well as some Fridays. ​Please view the image to learn more about me. Thank you and make it a great day - Go Battlers! Rob Nudell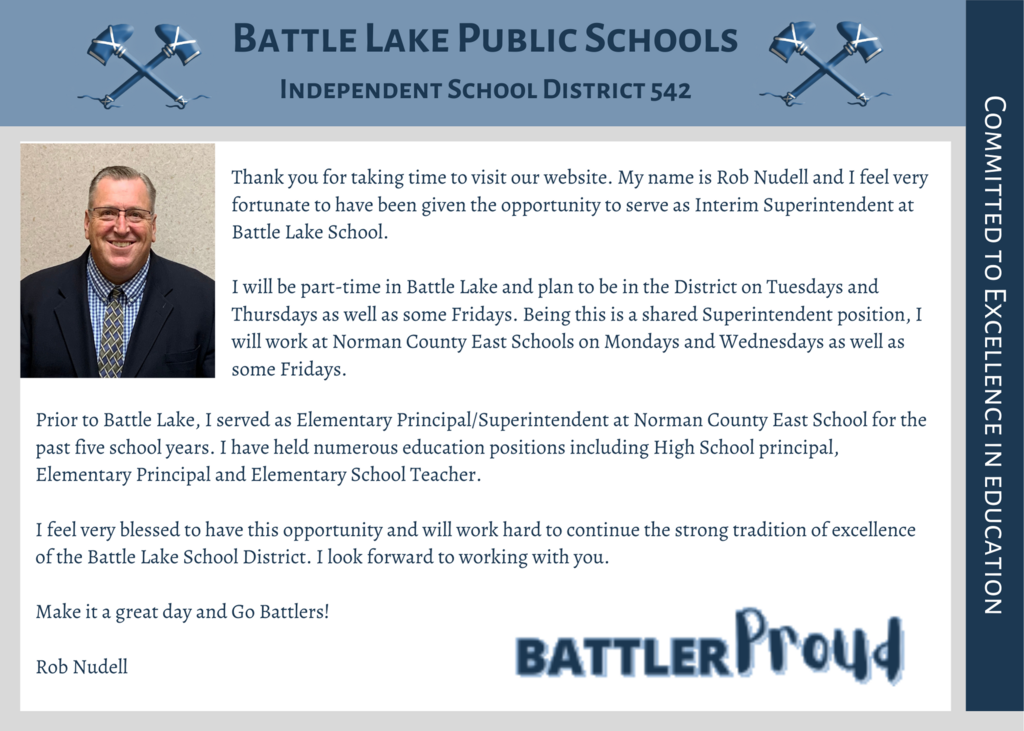 Just a reminder to High School Parents that Conferences are today and tomorrow from 4PM - 8PM. 7-12 grade Conferences take place in the main gymnasium and is open house style so there are no set times. Stop in, visit, and get to know your child's teachers!! We look forward to meeting or re-acquainting!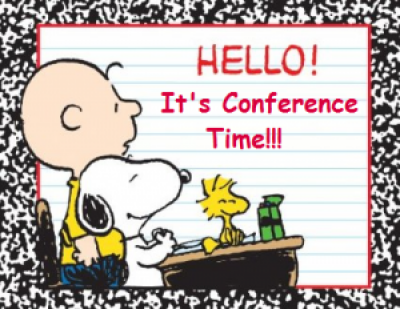 Picture retakes and class pictures are tomorrow! Also, please remember Parent-Teacher Conferences are Wednesday and Thursday, with NO SCHOOL on Friday. We're looking forward to smiling faces and great conversations about learning!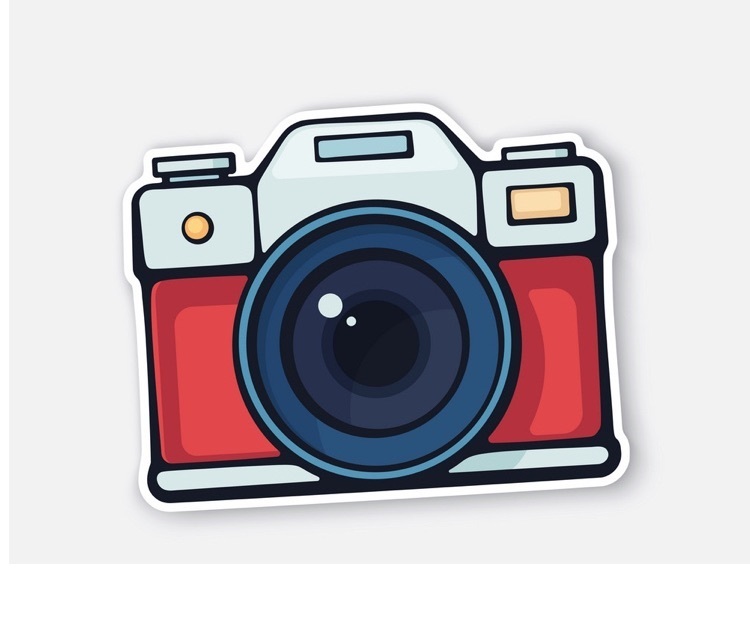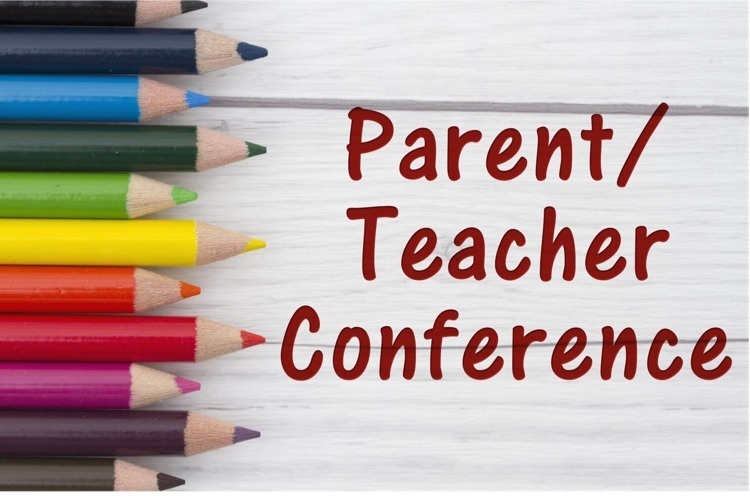 The Lion's KidSight Vision Screening was completed by the Battle Lake Lion's yesterday, 11/3/21. I apologize for the late notice. They use a Spot Vision Screener (basically, it's a camera that takes a picture of their eyes) to screen for: myopia; hyperopia; astigmatism and glare dex. If your child is sent home with a "Complete Eye Exam Recommended" please consider getting them examined by an ophthalmologist or optometrist. This is only a screening and does not replace a complete eye examination. Thank you!

Tickets for High School Musical: On Stage are now available for purchase! Scan the QR Code on the post below, or visit bit.ly/blmusical21 to order tickets. The box office (concession stand by the main entrance) will also be open to order tickets in person on Nov. 8, 10, 15 & 17 from 4:30-6:30pm. The shows are Nov. 18-20 at 7:00pm (doors open at 6:00pm) and Nov. 21 at 2:00pm (doors open at 1:00pm). We hope to see you there!